We'll call it a victory: we've got a commission that approaches independence. 
The final three appointees to the newly-formed Indigent Defense Commission were confirmed by the Senate Confirmation Committee yesterday afternoon. The commission is now fully peopled with various attorneys who will weigh in on statewide standards for indigent defense and – hopefully, one day – disburse funds to assist counties struggling to meet their Sixth Amendment obligations to provide legal counsel for all, regardless of ability to pay.
We are very pleased to note that – thanks in large part to the many requests our supporters sent to the Governor and his advisors – there are no active prosecuting attorneys on the Indigent Defense Commission.
The ACLU of Utah asserts that it is an inherent conflict to have active government prosecutors sitting on the Indigent Defense Commission – and such experts as the non-partisan Sixth Amendment Center agree. We're not thrilled with the presence of non-prosecutor government attorneys sitting on the Commission, but their formal participation is much less problematic for us.
We are also pleased that three of the twelve sitting members of the Commission are women; in the early stages of proposed membership, no women's names appeared among those of potential commission members. The Commission is still fairly non-representative, based on Utah's population, which is at least half female and boasts increasing numbers of people of color.
The final piece of the Commission puzzle will be the Executive Director position, which will be a paid government staff position, under the executive branch. We're hopefully that a strong advocate for indigent defense reform can and will be found to lead this new Commission.

The newly confirmed members of the Indigent Defense Commission are: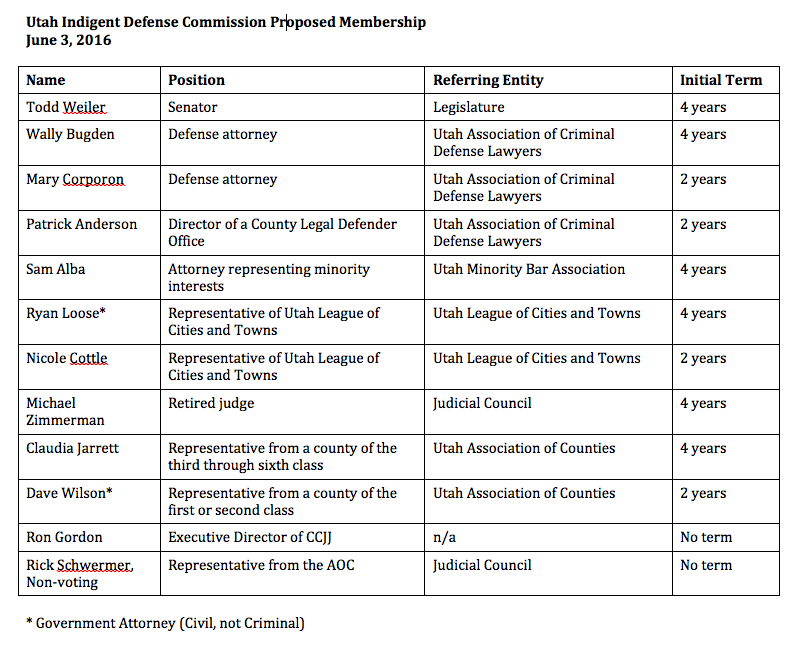 If you have any questions about the still-quite-young, not-yet-taking-action Indigent Defense Commission, or other information shared in this blog post, please don't heistate to contact Anna Brower at annabrower@acluutah.org.