First, the good news: Utah has hired (finally) the first ever executive director of the new Indigent (Public) Defense Commission.
Joanna Landau is an experienced, hard-working attorney who has worked directly with many people who desperately needed legal counsel but could not afford a private attorney. We look forward to working with her.
Now, the bad news: the hiring process took about four months.
There's nothing wrong with a thorough hiring process for such an important job. However, we can't forget that in the course of just four months, literally thousands of Utahns needed access to legal counsel and couldn't afford to hire a private attorney.
Senator Todd Weiler, who sponsored the legislation that created the Indigent Defense Commission, recently told theOgden Standard-Examiner:  "We finally have the infrastructure in place. It's not going to happen overnight."
We can agree, to some extent: our failing public defense system has been decades in the making, and the crisis won't be solved in the next year.
But policymakers and state leaders need to understand that the work of the Indigent Defense Commission can't be treated as some intellectual exercise, removed from the reality of what average, everyday Utahns are going through. Commissioners can't tinker around with studies and standards that have no teeth, while people continue to suffer from the deprivation of their constitutional rights.  
It's been nearly one year since the Sixth Amendment Center released its damning report on Utah's public defense system. In that same single year, Utah has...formed a commission and just barely hired its first executive director.
In a comparable amount of time – one fiscal year for the Utah court system – more than 40,000 criminal cases are filed in district courts; 40,082 to be precise, as reported by all eight Utah district courts between July 1, 2015 and June 30, 2016.
During that same time period, 68,612 criminal cases were filed in the 127 justice courts around Utah.
Those numbers are pretty standard for recent years. Between July 1, 2014, and June 30, 2015, 39,639 criminal cases were filed in district court, and 72,835 in justice courts. In the year before, from July 1, 2013 to June 30, 2014, 37,484 criminal cases were filed in district court, and 73,819 in justice courts.
That means, in the course of an average year – the time it has taken for Utah leaders to start a commission that has no enforcement authority or substantive funding – more than 100,000 Utahns are at risk of spending time behind bars and desperately need a well-funded, well-trained and experienced defense attorney in their corner.
A small proportion of those Utahns can afford a private criminal defense attorney. But the vast majority of us can't. National estimates are that somewhere between 80% and 90% of all criminal defendants qualify as indigent. That includes the following folks from Utah:
Candy couldn't afford a private attorney when she needed someone to represent her on a parole violation. She couldn't even get a straight answer from her overburdened public defender about how long she'd be spending in jail, after she'd begged him to help get her drug treatment and community supervision instead.
Carl couldn't afford a private attorney, either. His public defender took Carl's cases to trial, but didn't have time to call key witnesses or file basic motions for discovery. Carl, who has struggled with substance use disorder for most of his life, is in prison right now, instead of receiving treatment in the community.
Taylor* didn't have the money to hire a private attorney when he was falsely accused of sex with a minor. After spending nearly a month in solitary confinement in a county jail, Taylor was on the verge of pleading guilty, at his public defender's urging, to a crime he did not commit. Lucky for him, that's when police discovered that the crime, for which there was no evidence, had been fabricated.
All these Utahns are from different counties and different backgrounds. They have shared their stories with the ACLU of Utah, with the hope that their painful experiences will help the general public and state leaders better understand the urgency of our failing public defender system. 
Community members are losing their liberty, access to employment and housing, and the opportunity for treatment and community-based alternatives as Utah neglects its constitutional responsibilities.  Well-meaning and hard-working public defenders are unable to perform to their own high personal standards, while the state contributes no funding for their pay or training, and allows county prosecutors to exercise undue influence over their hiring and contracting. 
We understand the Indigent Defense Commission's desire to "get things right." More importantly, the Commission needs to get things started, with an urgency that reflects the suffering of so many people  denied this constitutional right. Otherwise, another year will go by, in which more than 100,000 community members will face the loss of their liberty without a fighting chance.
* name changed to protect identity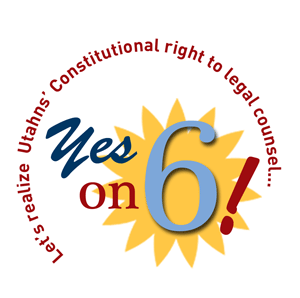 Save
Save
Save
Save
Save