"I didn't even think about calling my attorney for clarification. He was too hard to get a hold of and I didn't have money to call him or write him from jail. I mean, you're lucky if they come and talk to you at all."
Cindy* grew up in a small Utah town in a rural county, where jobs are scarce and drug problems are plentiful. Like many folks in her hometown, Cindy has struggled with drugs and intermittent involvement with the criminal justice system.
Cindy's experiences with two very different public defenders illustrate some of the inconsistencies and challenges that rural counties face, due to a complete lack of state funding and oversight for public defense.
With few financial resources – and two kids by the time she was 20 – Cindy couldn't afford to hire an attorney when she was charged with burglary in 2015. She'd already suffered a series of painful setbacks in the preceding year.
First, Cindy was publicly shamed on social media for an alleged crime. The charges were ultimately dismissed, but judgement in her small town persisted.
"I couldn't get a job anywhere in town after that," she recalled, "and I couldn't afford to move, either."  
Then, her children were placed in foster care by the Department of Child and Family Services.
"When DCFS first came in, my house was clean, there was food in my fridge, and the kids were doing well in school," Cindy said through her tears. "Yes, I was struggling with some drug stuff, but my kids were not in any danger. Well, I got into drugs even more heavily after they were taken away."
During that difficult period, Cindy and her husband were charged with burglary, stemming from a dispute with a former roommate. This is where her two very different public defender experiences really began.
Where Cindy lives, as in many rural Utah counties, there is only one contract public defender paid by the county to represent every single defendant who can't afford a private attorney.
When there is a conflict of interest for that one contract attorney in a particular case, a private attorney is appointed to represent the defendant.  This attorney is known as the "conflict counsel."
Cindy's first public defender was a "conflict counsel" attorney, because the contract public defender was representing Cindy's husband in the same case.
"The first attorney was very straight-forward and encouraging, he communicated clearly and honestly with me," she remembered. "I felt like I knew what was going on, that we were working together to find a better solution."
Cindy's "conflict counsel" attorney visited her in jail to discuss her case. Her attorney felt confident that they could reach a plea deal where she would receive only a misdemeanor charge. The two of them discussed what might happen if she went to court and was convicted of a felony instead. Cindy understood what she was agreeing to, and was hopeful that she would get the help she needed for her drug problems while under the supervision of Adult Probations & Parole.
"My lawyer told me that he would help me receive probation," Cindy said. "And that is what he did."
But when Cindy found herself in court again several months later for technical violations of her probation agreement, she was appointed the county's contract public defender instead.
She spent more than a week in jail before meeting this second attorney…just a few moments before her probation violation hearing began.
"All the other times, with the first public defender, I knew what was going to happen. This time, the attorney just talked to me for a few minutes in the courtroom. I tried to tell him what I wanted, but there wasn't enough time for a real conversation."
The contract public defender told her not to worry. Her probation agent had recommended that she spend a total of about 80 days in jail, then she could go back to visiting her kids in their foster home placement.
So when the court pronounced that she would need to fulfill her entire original sentence, Cindy was confused. She recalled trying to get an explanation for the result from her attorney.
"I was trying to do the math in my head, I had no idea what was going on. And then suddenly the hearing is over, and I am being taken back to the holding cell."
When Cindy was finally able to get an answer from staff at the county jail about her release date, they told her she'd be behind bars for more than six months.
"I didn't even think about calling my attorney for clarification. He was too hard to get a hold of and I didn't have money to call him or write him from jail. I mean, you're lucky if they come and talk to you at all."
In the county where Cindy lives, the public defender budget is about one-fifth the budget for the prosecuting attorney's office. The contract public defender carries the workload of three or four very busy attorneys; the "conflict counsel" attorney has publicly stated that he is currently assigned the maximum of cases he can responsibly represent.
"You can really see the difference," said Cindy's husband, who has also been represented by both attorneys. "The main guy is so overwhelmed, he just hurries to make a deal with the prosecutor, then tells you to take it. He never has time to hear what you want to do."
Regardless of where you live in Utah, the state has a constitutional obligation to ensure that you have access to legal counsel. If you can't afford a private attorney, the state needs to provide you with one who can stand up for you in court. A public defender is supposed to have enough resources, training and experience to be a fierce advocate for her or his clients.
That's what the Sixth Amendment is all about. And that is why the ACLU of Utah has been actively engaged in pushing the state of Utah to reform its failing public defender system, including filing a lawsuit against the state in June 2016. We hope you will support our efforts to make the Sixth Amendment a reality in Utah!
*Name has been changed for privacy purposes.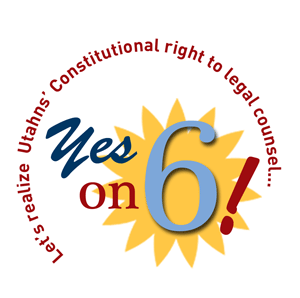 Save
Save
Save
Save
Save
Save
Save
Save
Save
Save
Save
Save